Statement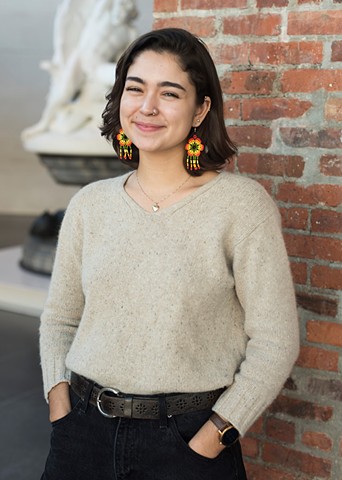 I have been told that my work often appears as a memory. I believe this effect stems from the energy imbued in my process: I enter into a place of remembering whenever I am making. While not everything comes directly from my experience, I am evoking history in everything I do, whether that be personal history, cultural history, or art history. My body belongs to a lineage of womxn and femmes who have questioned the abuse of our individual and collective bodies, seeking new forms of healing and empowerment through the arts.
My artistic practice is simultaneously personal and intensely relational -- my work functions as a space for me to turn inward or build community outwardly. I find that the repetitive actions of printmaking or weaving calm my mind, my breathing, and my body; yet I also find that communal art-making functions to bring me outside of my own head and reminds me of the importance of relationships. This is why my practice regularly swings back and forth between individualized and collective.
Materiality also holds an important space in my practice. I make active efforts to use recycled materials, to source my materials locally, or to ground a work in the use of specific material. I find that my work achieves its conversation with personal history through the presence of a physical history. I am also interested in engaging with viewers on a level that they can recognize as accessible through materiality; in other words, I am interested in demonstrating how people can source their own materials for art-making, whether they self-identify as an artist or not. Arts education and, more broadly, accessible creative endeavors are important to me.